19 June 2023
Senior Manager (Accounting): Must Love People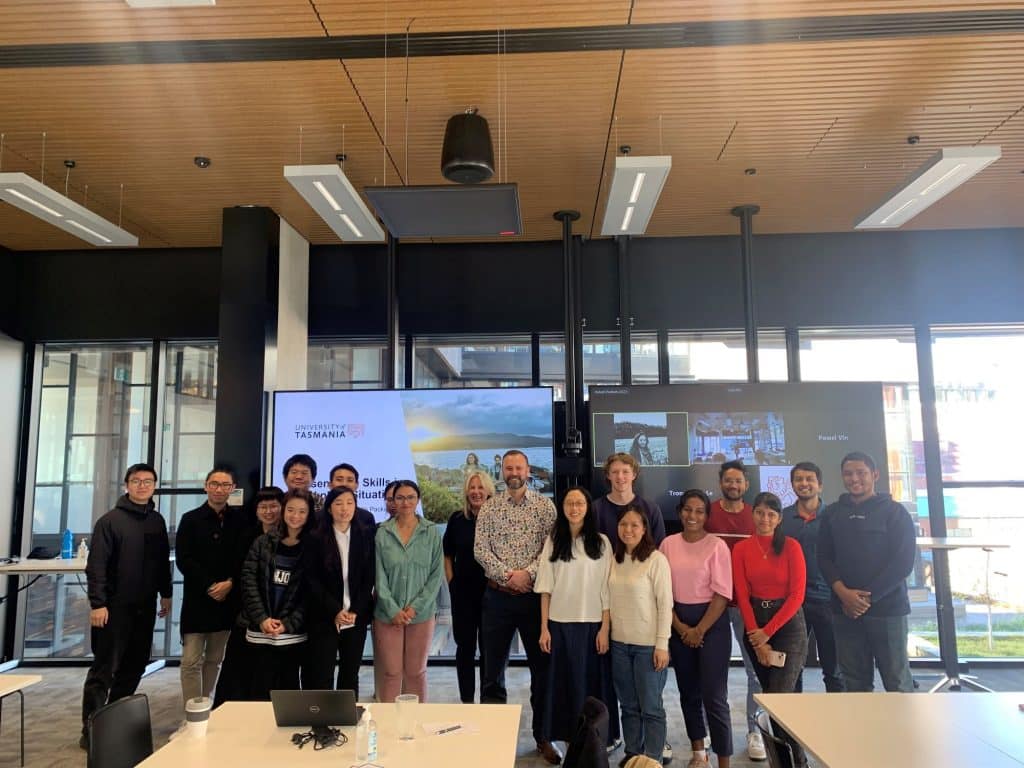 Pictured (Centre) Andrew – Head of Growth, Director with students from UTAS
At Collins SBA, we are really proud of our innovative approaches and employee-owned model. As a leading accounting, business coaching, and financial planning business, we're on a mission to transform the way our clients achieve their goals. Join our exceptional team of professionals and helps us lead the way.

We believe in nurturing talent and providing ample opportunities for growth. As a Senior Manager (Accounting), you will not only have the chance to lead and manage a team but also be part of a supportive environment that encourages continuous learning and development. We offer comprehensive training programs, mentorship opportunities, and clear pathways for career progression.
You will play a pivotal role in leading and managing a team of talented professionals. Your responsibilities will include providing guidance, mentoring, and fostering a collaborative work environment to ensure the team's success. You will have the opportunity to develop and implement effective strategies, optimise processes, and drive the team towards achieving outstanding results.
Our clients' success is at the heart of everything we do. As a Senior Manager (Accounting), you will have the unique opportunity to work closely with our clients, uncovering their aspirations, needs, and objectives. You will empower them to make informed decisions, anticipate risks, and seize opportunities. By providing holistic and tailored advice, you will play a pivotal role in keeping our clients on track towards achieving their goals.
Our success is built on collaboration and teamwork. As a Senior Manager (Accounting) you will collaborate closely with other talented professionals at Collins SBA to ensure our clients receive a seamless and holistic advice experience. By working collaboratively, you will contribute to the collective expertise of Collins SBA and deliver exceptional outcomes for our clients.
What we offer:
Work/life balance, including flexible hours and work from home
Nationally competitive salary
Encouragement and support for ongoing professional development and advancement
The opportunity to access equity in our employee-owned business so your reward for effort extends beyond your salary
A supportive workplace culture that's underpinned by our core values – people first, teamwork, integrity, innovation and being remarkable
Qualifications:
Bachelor's degree in accounting or finance
CPA or CMA certification preferred
5+ years of experience in accounting or finance, with at least 2 years in a management role preferred
Strong knowledge of accounting principles and practices
Experience with financial analysis and reporting
Excellent communication and interpersonal skills
Strong analytical and problem-solving skills
Ability to work independently and as part of a team
Proficiency in Microsoft Excel and other accounting software
.
Responsibilities:
A critical component of the role includes a desire to lead and manage a team, including but not limited to monitoring performance and holding team members accountable for meeting KPI's, assisting with goal-setting and tracking, providing feedback and identifying training and development needs.
Takes an active role in providing training and mentoring for the team.
Control of review work, including if team members do not have capacity to undertake delegated review work.
Workflow management for the team.
Demonstrated experience at uncovering client goals and an ability to identify the problems, risks and opportunities that may help or hinder the client in achieving their dreams.
Growth orientated focus with a relatively high new business target.
Proactively, engage, grow, and retain clients by asking for referrals and/or providing high value, strategic advice and ongoing services.
Skilled at developing and maintaining deep relationships with existing clients whilst focusing on attracting new clients to Collins SBA.
Provide high level, lead advisory work to clients.
Actively champion a "whole of team" approach through the collaboration with other team members who provide core services.
Comfortable representing Collins SBA in a range of professional environments some of which may lead to business development opportunities.
Building client book/relationships to transfer within your pod.
Responsible for quality of assurance of work completed by all team members.
Undertake research for complex strategies.
We embrace diversity and equality in a serious way. We are committed to building a team with a variety of backgrounds, skills, and views and this is integral to our recruitment process. We strongly believe the more inclusive we are, the better our work will be.
Pictured (Left): Kristy – Paraplanner, Bruno – Adviser, Nathan – Head of Accounting